Winter 2024 classes are now available!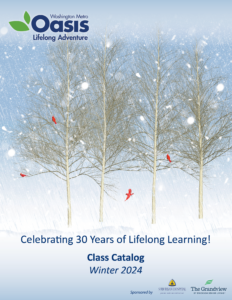 Skip the Scams this Holiday Season! According to AARP Fraud Watch, three-quarters of U.S. consumers have experienced or been targeted by at least one form of fraud that can be tied to the holidays, including requests from (often fake) charities, online shopping scams and fraudulent communications about shipping problems. Check out these tips from our experts about how to avoid scams this holiday season and all year long!
We're here to help you stay active, healthy and engaged and we understand the challenges of adapting to new technology. If you need help learning to use Zoom on your computer or mobile device, email us at .
Here are some tips for finding and signing up for classes!
Featured in our Newsletter
LRussi
Give the Gift of Lifelong Learning Purchase an Oasis Gift Card today! As the holiday season approaches, many of us are thinking about gift giving. What do we get for the person who Read more...
Support the Oasis programs and classes you love!
Working Together to Prevent Cybercrime