Boost Your Financial Health & Peace of Mind in 2023
Washington Metro Oasis and AARP Maryland want to help you make 2023 as worry-free as possible.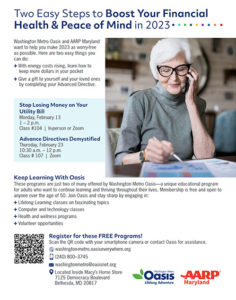 Here are two easy things you can do:
With energy costs rising, learn how to keep more dollars in your pocket.
Give a gift to yourself and your loved ones by completing your Advanced Directive.
Sign up today for these free sessions!
View the most up-to-date list of all upcoming classes
View a printable listing of January/February classes
We're here to help you stay active, healthy and engaged and we understand the challenges of adapting to new technology. If you need help learning to use Zoom on your computer or mobile device, email us at .
Here are some tips for finding and signing up for classes!
Featured in our Newsletter
Oasis Institute Webmaster
Is There a First Amendment Right to Tweet? The First Amendment doesn't apply to social media at the moment. But as Twitter, Facebook, Google, Instagram and more become more essential elements in daily life, Read more...
Support the Oasis programs and classes you love!
Working Together to Prevent Cybercrime