Warm Seasons Greetings from Your Washington Metro Oasis!
Season's Greetings! Sending you and your loved ones my warmest regards full of peace, health, happiness, and prosperity as we wrap up 2022 and ponder how the new year will unfold.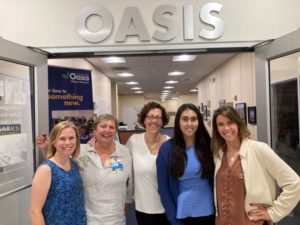 May your holiday celebrations sparkle with precious moments of laughter, love, and goodwill. I wish you a year full of contentment and joy. Washington Metro Oasis forecasts 2023 – a year of Wonder and Adventure for YOU!
I want you to know how grateful to have you and our Oasis community in my life: I am honored to work with an incredible Oasis staff, phenomenal instructors and talented volunteers who guided us through the twists and turns of 2022.
Thank you, Janice, Leah, Karla, Kathleen and ALL our angelic volunteers for your dedication to our mission and incredible passion that makes aging together a much more pleasant journey.
The Oasis community is rooted in relationships, health, and growth. We will continue to offer you many opportunities to nourish your mind, body, and soul. I can't wait to grow wiser with you in 2023!
See you in one of the upcoming January classes or come to Oasis for our Musical Mondays (underwritten by the Robin Fields Memorial Fund) to warm up and socialize with a cup of coffee or tea. Then, enjoy live music and the stories behind it with band leader Michael Suser and vocalist Charlene Cochran.
Each week enjoy coffee/tea from 10:30-11:00am and music from 11:00am-12:15pm. $15/program
110 Music of the Roaring Twenties | Jan 16
150 What Is This Thing Called Love? | Feb 13
190 Academy Award-Winning Songs | Mar 13
240 How NYC's Brill Building Became the New Tin Pan Alley | Apr 17
Warmest wishes!
Anna Stokes
Executive Director