We Came, We Saw, We Tatsed!
Thank you very much to all who attend our first-ever Taste of Oasis expo!
It was nice to see so many returning and new students socialize with our fabulous instructors and enjoy great music at the concert.
Congratulations to the raffle prize winners, who won a free class or a class/lunch with John McCarthy!
Tuesday, May 23 | 1:00 -2:30pm | At Oasis & Online | Free
---
With summer classes beginning this week, here are a few things to keep in mind:
Happy Summer Learning!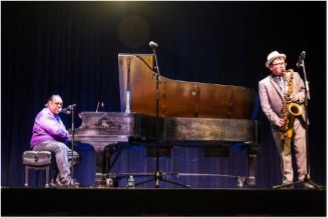 Pictured left to right, music legends Daryl Davis and Seth Kibel.